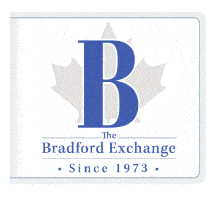 Account Manager (Sales) at The Bradford Group / The Bradford Exchange
London, ON N5v 4L8
Job Description
THE ROLE:
The Bradford group is looking for an experienced Account Manager to build and maintain relationships with key clients. In this role, you will be responsible for renewing and growing existing enterprise accounts. We value intelligence and ambition, and are looking for someone who consistently strives to do their best work. You will use your customer service and sales skills to help customers discover the products they need and complete the sale. You must be driven and motivated to close deals with a strong sense of ambition, self-motivation and self-discipline. You will be working in our Preferred Client division, reaching out to clients to offer collectible coins, mint collections, and exclusive coin sets featuring rare coins.
THE COMPANY:
At the Bradford Group, we take great pride in our position as a world leader in the direct to consumer marketing and product development industries. Headquartered near Chicago, Illinois, what was once a business dedicated to collectible plates has now grown into a close-knit family of businesses offering collectibles, jewelry, apparel, home décor and other inspiring products to our valued customers. In our continued pursuit of excellence, we seek to attract talented and driven individuals who share our passion and are committed to working to build our company's future success.
WHAT'S IN IT FOR YOU:
We offer unlimited earning potential that includes $17.50 per hour plus commissions in an energetic, fun, supportive and competitive environment. Successful candidates are provided with comprehensive new hire training and coaching (Sales, Product-specific, ongoing guidance and support). In addition, The Bradford Group offers company-paid benefits, group retirement benefits, profit-sharing plan and an employee assistance program. (We also have some great snacks sometimes).
WHAT ABOUT YOU:
Experience in a sales position
Outbound sales experience preferred
Exceptional sales skills: relationship building, negotiation skills, and closing abilities
Exceptional team player with time management skills
Excellent written and verbal communication skills
BONUS POINTS:
Experience with CRM preferred (e.g. Salesforce)
Proficient in required software applications (i.e. Microsoft Office)
The Bradford Group respects and upholds the requirements under the Accessibility for Ontarians with Disabilities Act (2005), and its associated standards and regulations. We are committed to providing accommodations upon request.
Job Type: Full-time
starting at $17.50 /hour
Unlimited commission