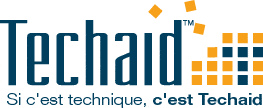 Consultant en recrutement et ventes - Sales and Staffing Consultant at Techaid Inc
MONTREAL, QC H3W 1X3
Techaid est une agence de recrutement spécialisée avec plus de 58 ans d'expérience à combler des besoins des clients pour des postes permanents et temporaires de personnels techniques.
Nous sommes présentement à la recherche d'un(e) Consultant(e) en recrutement et développement des affaires, orienté vers le service à la clientèle, polyvalent et avec l'envie de relever des défis. Ceci est une excellente opportunité pour quelqu'un qui aimerait bâtir une carrière dynamique au sein d'une entreprise bien établie.
Vous serez en charge du processus de recrutement dans son intégralité (360).
Développement des affaires (65%)  
Prospection téléphonique quotidien auprès de nouveaux et d'anciens clients afin de comprendre leurs besoins et d'obtenir des commandes d'embauche;

Identifier, développer et fidéliser votre portefeuille clients;

Développer et entretenir votre réseau de contacts (clients et candidats).
Recruteur (35%)
Rechercher et selectionner les meilleurs candidats grâce à une compréhension approfondie des besoins de vos clients;

Afficher des postes, interviewer des candidats, préparer des profils de candidats, vérifier des références, etc.
Exigences :
Bacc., DEC, ou certificat; (relations industrielles, RH ou une formation technique est un atout);

1 an d'expérience en ventes;

Expérience de travail dans une domaine technique (ingénierie, technologie ou fabrication) ou en recrutement technique est un grand atout;

Excellente présentation téléphonique, habiletés à faire des appels à froid; (français et anglais);

Faire preuve d'un sens de l'organisation, d'initiative, et d'autonomie.
Lieu: Près du Métro Snowdon.
Début : fin juillet ou août 2020.
Nous fournissons une banque de plus de 36.000 candidats, un base de données de plus de 3000 clients, la formation et le support.
Poste permanent (37,5 heures par semaine). Salaire de base plus les primes très compétitives et sans limites, 3 semaines de vacances (2 semaines + fermeture pour le temps des fëtes), congés de maladie payés, votre anniversaire est un jour de congé, et plus.
Pour plus d'informations s.v.p. visitez www.techaid.ca
*********************
Techaid is a specialized recruitment agency with over 58 years of experience providing permanent and temporary technical personnel to a wide range of industries.
We are looking for a Staffing and Business Development Consultant, client service oriented, versatile and ambitious. This is an excellent opportunity to build a dynamic and impactful career within a well established company.
You will be responsible for the entire recruitment process (360).

Business Development (65%)

Daily telephone prospecting with new and existing clients to understand staffing needs and obtain job orders;

Identify, develop and retain your client base;

Develop and maintain your network of contacts (clients and candidates).
Recruiter (35%)
Find and select the best candidates through your in depth understanding of your clients' needs;

Post jobs, interview candidates, prepare candidate profiles, check references, etc.



Requirements:
Bachelor, DEC or Certificate, (Industrial Relations, HR or technical training);

1 year of experience in sales;

Experience working in a technical field (engineering, technical services or manufacturing) or in technical recruitment is a major asset;

Excellent phone presentation skills and ability to make cold calls in French and English;

Demonstrated organizational skills, initiative and autonomy.
Location: Near to Snowdon Metro.
Start: End July or August 2020.
We provide our own bank of more than 36,000 candidates, a database of more than 3000 customers, substantial training and support.
Permanent position (37.5 hours per week). Base salary plus very competitive bonuses (without limit), 3 weeks vacation (2 weeks + holiday shutdown), paid sick days, the day off on your birthday, and more.
For more information visit our website www.techaid.ca

Salaire de base plus les primes très compétitives et sans limites