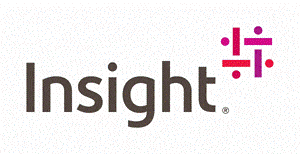 Hybrid IT Practice Manager from Insight Canada (formerly PCM Canada)
Mississauga, ON L4W4T9
Insight is a Fortune 500 global company that continually transforms. It's a place of tremendous opportunity. At Insight, you have a chance to grow your career and, in doing so, enable transformation of yourself and our clients' businesses. We provide smart, cutting-edge technology solutions for global organizations of all sizes in four Insight Intelligent Technology™ solution areas: Cloud + Data Center Transformation, Connected Workforce, Digital Innovation and Supply Chain Optimization.
We're broadening the scope of clients we can serve and are creating bigger opportunities to help businesses run smarter. By acquiring PCM, we add valuable teammates, deep client relationships and industry expertise to expand our global reach and services capabilities.
At a time when customers are increasingly in need of full-service solutions to help them both manage business today and transform it for the future, we continue to make significant investments to distinguish Insight as a provider business can depend on and trust. This acquisition strengthens our position as a super solution integrator — a digital transformation expert with end-to-end capabilities that excels at envisioning, building, deploying and maintaining solutions at scale.



GENERAL ACCOUNTABILITY
Hybrid IT Practice Manager will build strategic high-end solutions for our clients.  The ideal candidate will have working experience within the Enterprise Datacenter technology suite (Enterprise Storage, Compute and Virtualization, Data Management, and ideally Public Cloud experience), strong leadership skills and a passion for client success.  You will work closely with client stakeholders and an award-winning team of engineers, architects and thought leaders to design, build and implement next-generation solutions to solve complex technical and business challenges.
This is a national leadership role, responsible for the development and support of presales architects and delivery consultants across the country. The Practice Manager is also a accountable for the creation of business strategies for increasing market share; inspection and analysis of the ongoing financial state of each sales/delivery area to ensure revenue generation and gross profit objectives are met/exceeded; collaborating with the service sales leadership within each geography, as well as supporting viable partner relationships within the market. Practice Managers will recruit, retain and support the national team of resources capable of managing, delivering, and developing profitable solutions to our client base, and will build and maintain executive management level relationships within Insight, our clients and our partners.
SPECIFIC ACCOUNTABILITIES
Provide management and oversight of Hybrid IT Solutions operational delivery processes through Insight resources and partner resources.

Participate in the approval process for statements of work, solution proposals, pricing schematics and overall client facing solutions.

Work closely with the Service Sales and Client Solution teams to drive Hybrid IT solutions within client accounts.

Contribute to and assure that Insight solution methodologies are being utilized and improved upon within your respective practice that includes Enterprise Storage, Compute and Virtualization, and Data Management Solutions.

Responsible for building and maintaining positive relationships within Insight, its customers and partners.

Support Hybrid IT services pre-sales activities (conference calls, on-site client meetings, etc.) with the sales teams, including identifying, qualifying, pricing and overseeing the delivery of lifecycle solutions to the various areas.

Responsible for communicating the Hybrid IT capabilities and solution strategies available to each area through the effective management of Hybrid IT offerings, partners and operational delivery to meet the established service levels and client objectives.

Maintain open lines of communication with other national practices and the field service delivery teams to build synergies and enhance service delivery capabilities in each area and nationally.

Mentor and motivate your team of presales and delivery engineers.

Accountable for monthly service revenue forecasts and budget attainment.

Create and implement a strong business plan, to be reviewed quarterly.

Work closely to establish business relationships with various OEM's to drive leads for account executives.

Assist sales executives with building strategies for their "high-profile accounts" that will build client trust.

Team with peers to actively pursue new business.  Follow-up with the account executives to assist them with closing deals and managing appropriate resources to create a solution.

Strong knowledge of the reseller channel and information technology market.

Participate in the management and creation of Field Services opportunities.
QUALIFICATION (EDUCATION, EXPERINCE, KNOWLEDGE, SKILLS, AND ABILITIES)
·         Over 15 years of experience in the computer industry field. 
·         Ability to understand the business needs of clients/prospects at a CEO/CIO level down to an individual worker and be able to create customized solutions for customers/prospects.
·         Ability to read, analyze and interpret general business/professional journals, technical procedures or regulations. 
·         Ability to write scopes of work, proposals, reports and/or business correspondence.
·         Ability to effectively present information and respond to questions from groups of managers, clients and other teammates. 
·         Ability to create complex pricing models to support the profitable sales of Lifecycle Solutions opportunities.
·         Ability to effectively present information to top management, public groups, and/or Boards of Directors. 
·          Ability to read, analyze and interpret the most complex documents. 
·          Ability to respond effectively to the most sensitive inquiries or complaints. 
·         Ability to write using original or innovative techniques or style. 
·         Ability to make effective and/or persuasive presentations on controversial or complex topics to top management and/or Boards of Directors of companies.
PHYSICAL REQUIREMENTS – DEMANDS ANALYSIS
The physical demands described here are representative of those that must be met by a teammate to successfully perform the essential functions of this job.  Reasonable accommodations may be made to enable individuals with disabilities to perform the essential functions.
Office environment with computer work.  May have extensive periods of sitting, typing and phone use (may include headset).  May need to lift up to 10 lbs. Travel, i.e. driving.
Today, every business is a technology business. Insight Enterprises, Inc. empowers organizations of all sizes with Insight Intelligent Technology Solutions™ and services to maximize the business value of IT. As a Fortune 500-ranked global provider of digital innovation, cloud/data center transformation, connected workforce, and supply chain optimization solutions and services, we help clients successfully manage their IT today while transforming for tomorrow. From IT strategy and design to implementation and management, our 6,800 employees help clients innovate and optimize their operations to run smarter.
Founded in 1988 in Tempe, Arizona
11,000+ teammates in 19 countries providing Intelligent Technology Solutions for organizations across the globe
$7.1 billion in revenue in 2018
Ranked #417 on the 2018 Fortune 500, #12 on the 2018 CRN Solution Provider 500
2018 Dell EMC Server Partner of the Year, 2018 Intel Retail Solution Partner of the Year, 2018 Microsoft Worldwide Artificial Intelligence Partner of the Year
Ranked #23 on the 2019 Fortune 50 Best Workplaces in Technology and #5 on the Phoenix Business Journal 2018 list of Best Places to Work (Extra Large Business)
Signatory of the United Nations (UN) Global Compact and Affiliate Member of the Responsible Business Alliance
We believe in teamwork, having fun and achieving success. Be a part of our winning team by joining us and transform how businesses view technology!
Discover more at www.insight.com