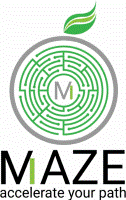 IT Business Analyst at Maze Recruiting (Maze Technology Solutions)
Markham, ON
The IT Business Analyst is an intermediate-level position responsible for liaising between business users and technologists to exchange information in a concise, logical and understandable way in coordination with the Technology team. The overall objective of this role is to contribute to continuous iterative exploration and investigation of business performance and other measures to gain insight and drive business planning. Eligible candidates please forward your resume to Lei-ley.hull@mzaerecruiting.com or ildiko@mazerecruititng.com referencing "IT Business Analyst" in the subject line.

Responsibilities:
Formulate and define systems scope and objectives for complex projects and foster communication between business leaders and IT
Consult with users and clients to solve complex system issues/problems through in-depth evaluation of business processes, systems, and industry standards and recommends solutions
Support system change processes from requirements through implementation and provides input based on analysis of information
Consult with business clients to determine system functional specifications and provides user and operational support
Identify and communicate risks and impacts, considering business implications of the application of technology to the current business environment
Creating reports using SSRS and SSIS.
Act as advisor or coach to new or lower-level analysts and work as a team to achieve business objectives, performing other duties and functions as assigned
Appropriately assess risk when business decisions are made, demonstrating particular consideration for the company's reputation its clients and assets.
Qualifications:
4-5 years of relevant experience
Experience in data analysis with intermediate/advanced Microsoft Office Suite skills
Experience with SSRS and SSIS.
Proven interpersonal, data analysis, diplomatic, management and prioritization skills
Consistently demonstrate clear and concise written and verbal communication
Proven ability to manage multiple activities and build/develop working relationships
Proven self-motivation to take initiative and master new tasks quickly
Demonstrated ability to work under pressure to meet tight deadlines and approach work methodically with attention to detail
Education:
Bachelor's degree/University degree or equivalent experience
About Us:
Maze Recruiting provides clients with placement services on a contract, contract to hire, and direct-hire basis in the Administrative, Finance/Accounting and Information Technology industry. Our strength is our ability to match talent and experienced professionals to the unique business needs of the client