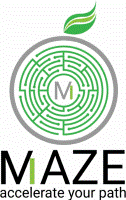 IT Recruiter at Maze Recruiting (Maze Technology Solutions)
Toronto, ON
Are you just a number?

Working for an agency does not have to be painful! Are you a motivated individual, who strives in a fast-paced environment? There are many large recruiting and consulting firms out there, however, with those agencies comes a 60% turnover in 1 year. Our team has the pedigree and experience that allows us to keep a well-knit team together and where each member has a significant contribution to the bottom line. If you are an innovative recruiter that lives and breathes technology recruiting and are looking to join a dynamic team, Maze Recruiting is the firm to be with!
This is an opportunity to be a part of greatness in the making, please apply if you are looking to take your career to the next level! Eligible candidates, please forward resumes to

jay.nayaik@mazerecruiting.com

or cynthia

cynthia@mazerecruiting

.com referencing "IT Recruiter" in the subject line.

Required Skills and Qualifications:

The ideal candidate will have 1-year experience recruiting and placing candidates for both infrastructure and development roles.
Must have a strong ability at maintaining and developing relationships with both candidates and clients.
Must have a proven ability to screening resumes, conducting phone-screens and bringing in qualified candidates for interviews.

About Us
Maze Recruiting provides clients with placement services on a contract, contract to hire, and direct-hire basis in the Administrative, Finance/Accounting and Information Technology industry. Our strength is our ability to match talent and experienced professionals to the unique business needs of the client.