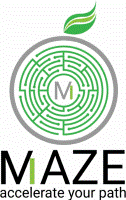 Senior .NET Developer at Maze Recruiting (Maze Technology Solutions)
Toronto, ON
Our Client in Downtown Toronto is looking for a C#/ASP.NET Developer to join their team on a permanent full-time basis to assist with building products for the wealth management industry. The successful candidate will work as part of a larger team building products. A strong candidate will understand all aspects of product development, from usability to performance to security, as well as propose patterns and solutions to complex problems. A successful candidate will also be up to date with the latest .NET Core technologies as well as having used other technology stacks in his or her career. Eligible candidate please send the resume to ildiko@mazerecruiting.com or jay.nayaik@mazerecruiting.com and quote "Senior .NET Developer" on the subject line.
Qualifications
4+ years experience developing high quality C# code
Database experience with SQL Server and others such as MongoDB or Cassandra
Experience creating RESTful api's
Experience using O/RM's such as Entity Framework or Dapper
Experience with SOA/Microservice architecture
Experience using messaging brokers such as RabbitMQ/Kafka
Experience with .NET Core
Proficient using GIT and working in an agile environment
Excellent English communication skills: written and oral
Excellent problem solver
Nice-to-have skills and experience
Knowledge of investing and finance
Experience working with SSIS
Experience working with containerization technologies such as Docker and Kubernetes
Experience with Big Data technologies such as Hadoop or Spark
Maze Recruiting provides clients with placement services on a contract, contract to hire, and direct-hire basis in the Administrative, Finance/Accounting and Information Technology industry. Our strength is our ability to match talent and experienced professionals to the unique business needs of the client.
$90,000.00 - $110,000.00 /year